A new report from the National Institutes of Health provides a road map on how to improve the nation's oral health. Released by NIH's National Institute of Dental and Craniofacial Research (NIDCR), the report emphasizes the importance of oral health, and challenges to the creation of more equitable access to oral health services. Potential roles for health philanthropy are highlighted including grantmaking and policy engagement regarding insurance access, community health education, and school-based dental services.
As we kick off GIH's 40th anniversary year and begin implementing our new strategic plan, I invite you to listen in on this conversation between myself and past GIH leaders about how health philanthropy has evolved, what is on the horizon, and how GIH and health funders can be more future-focused to achieve better health. We look forward to working with you to achieving better health for all through better philanthropy.
Read More →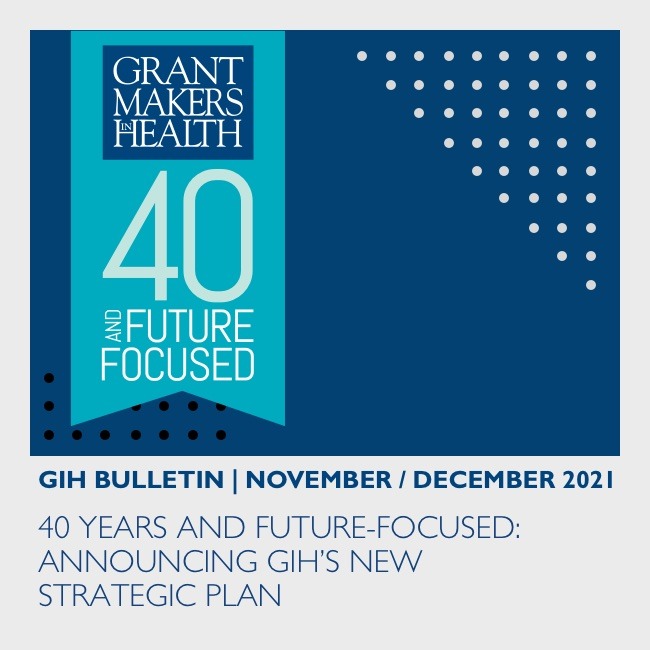 As we approach our 40th year of supporting philanthropy—we at GIH have been reflecting on how the field is evolving, what is needed to achieve better health, and what our role in this work can be. We've asked for guidance on what we do well and where we can improve. And we've reflected on your feedback, reaffirmed our mission and values, and identified intended outcomes. The result is our new five-year strategic plan.
Read More →
As we work towards a more just and equitable future, we must ensure that we have the data needed to measure the things we are trying to improve. It is no longer acceptable to say we do not know.
Read More →
On the fourth and final episode of the series, representatives from philanthropy-serving organizations discussed priority issues and promising strategies to strengthen and expand philanthropic investments in rural areas.
The third episode of the four-part series addressed economic development in rural areas. Economic prosperity or lack thereof is a vital social determinant of health.
This podcast explored the benefits of this expanding service delivery mode, as well as the challenges to achieving equitable telehealth access.
We continue to be inspired by the plenary remarks Dr. Paul Farmer gave at Grantmakers In Health's 2006 Annual Meeting on Health Philanthropy.
Even before the pandemic, the mental health and well-being of adolescents and young adults was worrisome and worsening. COVID-19 has exacerbated these trends and heightened existing disparities. GIH surveyed its Funding Partners in October 2021 to better understand how health foundations are addressing youth behavioral health equity. The survey results are summarized in an infographic that provides a useful snapshot of primary funding areas, types of populations supported, and top funding strategies.
The second of two reports, Improving Data on Race and Ethnicity: A Roadmap to Measure and Advance Health Equity, provides more details about race and ethnicity data collection in federally administered health programs and an expanded list of recommendations for improving the data. The recommendations consider actions for states and the private sector as well as actions for the federal government.
This webinar will unpack some of the issues our youth are facing and uplifting ways that philanthropy can take action to support youth mental health, especially in ways that are culturally responsive and center collective healing.
Sign up for the GIH Bulletin Newsletter